The Old Town Coleman Used Parts
Sales Page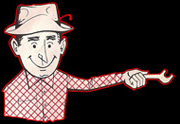 1. To locate and purchase a used part from our lamp, lantern and stove bone yard, please send an email to oldtowncoleman@gmail.com with "Used Parts" as the subject line. Tell us what you need, to include model and year of the appliance.
2. Because life happens, it might take a day or two for me to get out there and find the part.
3. I support keeping this hobby inexpensive, but PLEASE understand that regardless of how small the part is, I still have to go find, clean and prepare it for you. Accordingly, the minimum charge for ANY part is $10, plus shipping.
4. Please see our parts diagrams for item uses.
5. We will accept Paypal, but only by exception. Due to their outrageous seller fees, we ask that you make payment with check, money order or cash. We can wait. Thank you for understanding that we DO NOT wish to support Paypal.
6. We do not charge a handling fee. We use Pirate Ship to save you on shipping.
7. This page is a work in progress. We have a good assortment of common "parts" appliances, plus a few that are uncommon. I will add a list to this page once I have an inventory of available stuff.
---
---