Special Tools: Rory's Filler Cap Flex Wrench
Rory is a gentleman that lives in Connecticut. One day, Rory decided that he was going to replace the gasket in a 1-piece fuel filler cap. As he pressed down on the fuel cap with his sharp instruments, he considered how easy it would be for the cap to slip and damage the paint or allow one of the sharp instruments to penetrate his hand. He thought about it for a minute, then solved the problem.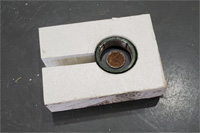 Rory built this beautiful tool out of Azek, an outdoor trim & molding product that is flexible and easy to work with. I didn't have any of this stuff and assume that you won't either, so I made it from a piece of 1x6 scrap wood that I had out in the shop.
To make it, you'll need:
a. Small board, about 12" long, 3/4" thick and 4-6" wide
b. 1" forstner or speed-boring drill bit
c. Saw
d. Knife and/or sandpaper
e. Vice
First you'll want to scribe a center line length-wise on the board (Fig 1).
On the line and about 2" from the end of the board, drill a 1" hole about half-way through the board. (Fig 2)
Use the knife and sandpaper and enlarge/cleanup the 1" hole so that the filler cap can be pressed into the hole without too much force. It should fit nice and snug. (Fig 3)
Now remove the cap and cut the board along the line until the saw blade passes completely through the hole you just drilled. (Fig 4) This allows the tool to flex.
Set the cap in the hole and press down until it reaches the bottom. Set the board in a vice and gently squeeze the cut you made in the board. (Fig 5) This will grip the cap securely and won't it slip or roll out on you.
Did you find this information useful? Click here to support the Old Town Coleman Center with a cup of coffee!
---
---