Welcome to our list of the
Best Coleman® Sites
I've searched high and low, and these are my top picks for the best Coleman sites on the web.
If you own/operate another site or group that I don't have listed and you would like to see here, please email me at info@oldtowncoleman.com so I can take a look.
---

This is by far the best Coleman site on the internet today. Dr. Terry Marsh has been documenting and cataloging pressure devices for over twenty years and his website is full of great information and lots of eye candy. If you ever need to reference what you have found, this is the place to do it.
---

They host my favorite Facebook group, "Coleman & Non-Coleman Lamps & Shades Discussion Group". An exceptional resource for information along with advice from two of the most knowledgeable collectors in the hobby. As it says in the description, you can "ask questions about history, operation, restoration, or just about anything else lamp or indoor gasoline and kerosene lighting related." A must for any type of lamp collector.
---

This site from Wichita State University will show you 72 very cool photos and documents from the Coleman Company. High quality images and in color. Click "Coleman Company Records" and then "Browse".
---

The place to find new, NOS and reproduction Coleman® parts for almost anything they ever made. If you need it, they've got it.
---

The Coleman Company, Inc. Their website lists safety and recall information, where to send your lantern or stove in for their flat-rate repair service ($55) and more.
---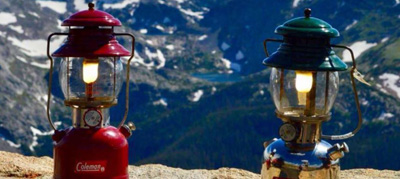 Another of my favorite Facebook groups, "Antique & Vintage Coleman Lantern & Stove Collectors" is a very active public group with lots of knowledgable folks and great photos.
---

The best BBS on the web, hosted by Old Coleman Parts. If you have a question and need an answer fast, you'll get it here. A really fun board to be part of. Technical help, classifieds and a very active crew.
---
---