Special Tools: Protector Plate for Double Mantle Lanterns
This simple tool was designed by Del C. from Portland Oregon about 15 years ago. He sent me a photo of the one he made so I drew it out, made my own and have had it in my toolbox ever since.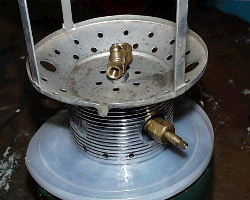 The issue is damaging the paint or plating while removing the tip cleaner on a vintage 220 or 228 lantern. If you turn the tip cleaner without loosening the frame nut and lifting the frame rest, you can scratch and/or peel the paint off. That sort of damage cannot be reversed, but it can be prevented.
I used a plastic lid from a 3lb coffee can to make mine but I'm not sure you can even buy coffee in that type of container any longer. You can use the lid from a whipped cream or butter container just the same.
All you need to do is cut a slot about 3/4 of an inch wide so it fits around the fuel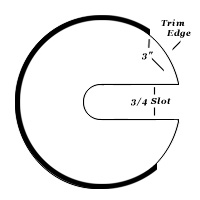 valve, and then trim a few inches off the leading edge so it will fit in the narrow space between the frame rest and the fount.
If you back off the nut holding the frame down, you will get enough play in the frame rest to lift it up. Hold the rest while you do this so that you don't scratch the paint, then insert the leading edge of the protector plate between them. Slide it back so that the frame rest sits on it, rather than the painted fount. Now you can work on the tip cleaner assembly without damaging the paint job.
Did you find this information useful? Click here to support the Old Town Coleman Center with a cup of coffee!
---
---